Schwann cells (SCs) are supporting cells of the peripheral nervous system and were first described by Theodor Schwann in 1839. In general, SCs can be classified in myelinating and non-myelinating SCs. They provide trophic and structural support of peripheral neurons and play a pivotal role in regeneration after injury. Recent reports suggest that in response to injury or infection (e.g. with Leprosy Bacilli) they dedifferntiate into plastic NCSC-like state allowing them to generate neurons, glial and mesenchymal cell types.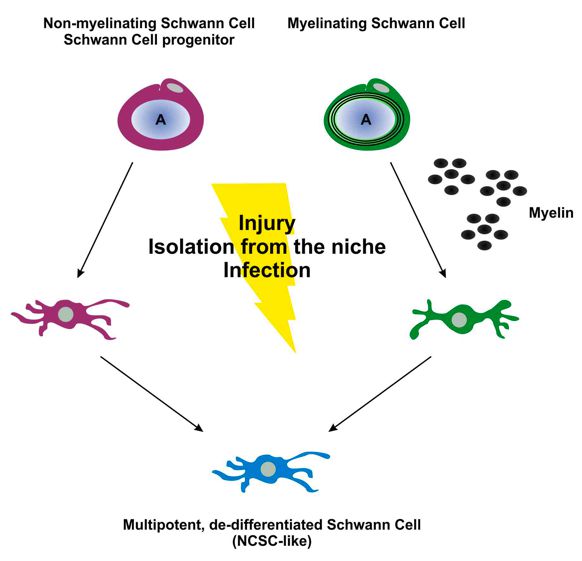 Fig. 1 Both - myelinating and non-myelinating Schwann cells can be reprogrammed towards a neural crest stem cell-like phenotype by lesion of removal of their niche (injury mimicry).
We were able to show that mouse and rat derived myelinating and non-myelinating SCs are able to acquire NCSCs-like phenotype after removal from their niche and in vitro cultivation under appropriate conditions.
Currently, we want to understand how the process of dedifferentiation is regulated at molecular level. Importantly, a deep understanding of the cellular reprogramming of SCs will provide the option to use this cell type as a novel, ethically unquestionable stem-like cell type for treatment of degenerative disorders in humans.
References
Martin I, Nguyen TD, Krell V, Greiner JF, Müller J, Hauser S, Heimann P, Widera D. Generation of Schwann cell-derived multipotent neurospheres isolated from intact sciatic nerve. Stem Cell Rev. 2012 Dec;8(4):1178-87. doi: 10.1007/s12015-012-9387-2.
Widera D, Heimann P, Zander C, Imielski Y, Heidbreder M, Heilemann M, Kaltschmidt C, Kaltschmidt B. Schwann cells can be reprogrammed to multipotency by culture. Stem Cells Dev. 2011 Dec;20(12):2053-64. doi: 10.1089/scd.2010.0525. Epub 2011 Jun 1.
Widera D, Hauser S, Kaltschmidt C, Kaltschmidt B.Origin and regenerative potential of vertebrate mechanoreceptor-associated stem cells. Anat Res Int. 2012;2012:837626. doi: 10.1155/2012/837626. Epub 2012 Oct 2.